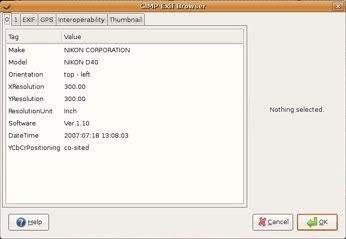 One of Gimphoto user, Pam, has difficulty to preserve exif data using Gimphoto.
EXIF is metadata tags that embedded on photo that taken by digital cameras, it consist of:
Date and time information. Digital cameras will record the current date and time and save this in the metadata.


Camera settings. This includes static information such as the camera model and make, and information that varies with each image such as orientation, aperture, shutter speed, focal length, metering mode, and ISO speed information.


A thumbnail for previewing the picture on the camera's LCD screen, in file managers, or in photo manipulation software.


Descriptions and copyright information.
Actually i didn't use exif data a lot, sometime i just check the photo's exif data only to knew about what setting is used to take that photo. Thus i only need photo exif data from original file from camera not from edited photo because that will ruin the original shot results, even if its only scale or crop operation to that photo. Every digital manipulation to the photo will change the quality of photo, for example scale the photo will effect on photo sharpness and crop the photo will make we can't judge the lens quality anymore from the cropped photo, but that just me :)
GIMP or Gimphoto is always preserve exif data if we use JPG or XCF format.
For other format like TIFF, Targa, GIF, etc there is NO exif data will saved using that format, so be careful if we plan to convert your JPG or XCF format to other file format, maybe better if we backup exif data first before it loss.
This is the workflow if you want to preserve your EXIF data using GIMP or Gimphoto.
Directly from camera or flash, copy JPG that have exif data to your computer folder.


Be careful if you using photo viewer for rotating image, sometimes it delete the exif data.


Edit that photo JPG using Gimphoto (do color correct, sharpening, scaling, add layer, etc)


Save the photo as XCF, this step automatically preserve photo exif data and all layers settings.


Save as the final result as JPG (this step will merge all layers) and still preserve its exif data.


When saving JPG, click Advanced Options > check Save EXIF options then click OK.


Or Export to other file format that will delete exif data but we still have XCF with exif data.
For better management tool with function for backup and restore your photo exif data, you can try to use exiftool, get it from: http://www.sno.phy.queensu.ca/~phil/exiftool/
For viewing exif data using GIMP or Gimphoto, we need EXIF Viewer plugins that we can get it from: GIMP Plugins Repository
EXIF Viewer plugin will be included in the next version of Gimphoto.
For further discussion about it, read Flicker user group talk about GIMP exif data.