Gimphoto 24.1
- Gimphoto 1.4.3 repackage
- New Installer compatible with Windows 8 and Windows 8.1
- New Installer is Portable (no more problems with UAC permission)
- Gimpad version 1.2 included (new) - faster, lighter, compatible with Win 8 and Win 8.1
Gimphoto 1.4.3
- based on Gimp 2.4.3 stable version.
- all GimPhoto 1.4 and 1.0 great features.
- NEW special menu for Photographic related functions under Menu > Photos
- NEW 100+ Web 2.0 gradient set for easier and ready to use gradient.
- NEW Vista Gray GTK Themes for better looking and more compatible interface.
- NEW GimPad 1.1 that will make Gimphoto scattered window to single MDI ala PS.
Gimphoto 1.4
- based on Gimp 2.4 stable version.
- all Gimphoto 1.0 great features.
- NEW 100+ brush set (beautiful brush set for artist)
- additional plugin for texturing (normal map, kaleidoscope, etc)
- so many plugins for photography (high pass, photofx, refocus, exposure, ir, etc)
- additional utilities Power Menu for Always on Top window
Gimphoto 1.0
Gimphoto using latest development version of GIMP 2.3.19.
GIMP 2.3.19 bring more features than old stable version GIMP 2.2, new features of GIMP 2.3.19 such as:
- Color Management
- New and better selection tool functions
- Plugin and filter live preview
- Desktop color picker
- Enhanced text tool
- Dynamic brushes
- Performance improvement
- New better menu naming convention

for complete new features list go to Gimpusers.com
for further information about GIMP go to http://www.gimp.org


PROGRAM USER INTERFACE
Gimphoto using Clearlooks GTK Engines (http://clearlooks.sourceforge.net/) which bring flat smooth modern looks.
Clearlooks GTK engines is use by RedHat and Ubuntu to bring modern professional look to their desktop environment.
I found Clearlooks lib for Windows from GTKRadiant package - Thanks GTKRadiant team! :)

Default GTK engine is look bad under Windows 2000 but bring original Windows look and feel under Windows XP.
Compare screenshot below for Default GTK engine vs Clearlooks: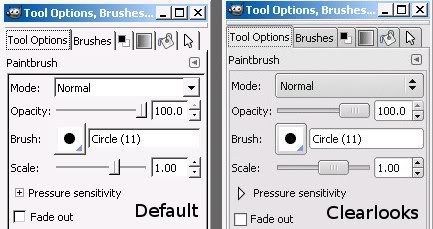 For GTK Theme, Gimphoto using T-ish theme by Toni Milovan.
T-ish theme bring more professional look and feel for GIMP under Windows.

Gimphoto also include tools to change GTK2 Themes under Windows (made by Tor Lillqvist)
This will bring more excitement to GIMP user because they now can change their GIMP UI themes easily.
More themes can be downloaded from http://www.gnome-look.org and I plan a tutorial about howto change Gimphoto themes.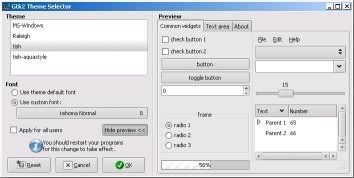 Gimphoto using GIMP Original Menu Naming Convention.
Gimphoto NOT CHANGE the menu naming convention, Gimphoto only change menu structure.
So this mean that GIMP tutorials is still usable and Photoshop tutorials is also do-able :)




New Modified Right-Click Menu - most useful tools is ready in this popup menu.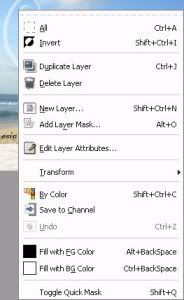 ADDITIONAL FEATURES
Gimphoto already installed many useful plugins to fill many missing features at GIMP, such as:

- Save for Web
using Save for Web plugin by Aurimas Juska at http://registry.gimp.org/plugin?id=8799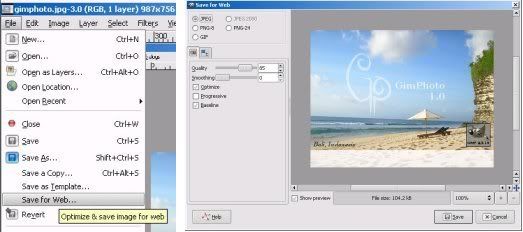 - Batch Process
using David's Batch Process plugin http://members.ozemail.com.au/~hodsond/dbp.html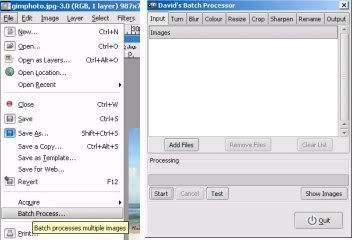 - CMYK Separation
using Separate+ plugin by Yoshinori Yamakawa (improvement from Separate plugin by Alastair M. Robinson) at http://cue.yellowmagic.info/softwares/separate.html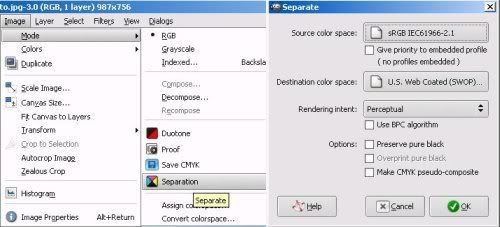 - Layer Style
using LayerEffects script http://registry.gimp.org/plugin?id=6988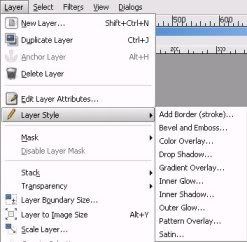 - Photoshop plugin support (8bf)
using PSPI plugin by Tor Lillqvist at http://www.gimp.org/~tml/gimp/win32/pspi.html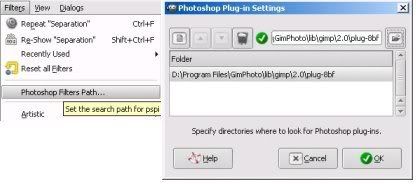 ADDITIONAL RESOURCES
Gimphoto already included with new brush set and additional gradient set, in the future this will be expanded
with additional best and useful brush packages, gradients, patterns and tutorials howto create and using it.

- Modified Default Brush Set
modified default brush set, more complete set useful brush, this will be expanded in the future.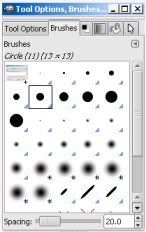 - Modified Default Gradients
more tight selection of useful included gradients.

- Additional Web 2.0 Gradients
great 30 new additional gradients to create button, symbol or graphics for Web 2.0 design style. This gradients set from Dezinerfolio converted to GIMP by Gimp-Tutorials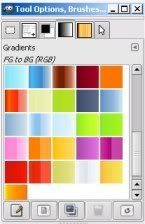 ADDITIONAL IDEAS
If YOU have more IDEA or SUGGESTION for Gimphoto, SHOUT IT OUT! :) I love to hear it and use it to improve Gimphoto, so submit your opinion directly at SUGGEST section.

Hope Gimphoto can bring happiness to everyone...like i have enjoy develop and using this app :)