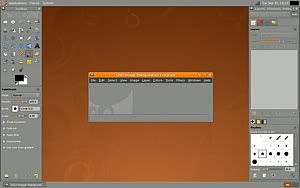 Sorry for very late news coverage about new GIMP 2.6 release, but my life is little busy lately.
GIMP 2.6.0 has been released with many new features, such as:
New user interface, such as: menu is removed from toolbox, toolbox and docks are now a utility window, ability to pan over image border.


New GEGL 16/32bit image manipulation, much better than old method that used 8bit operation (must activated from menu Colors/Use GEGL option)


Improved 2D image processing, curves display, etc using Cairo.


Improved Brush Dynamics support pressure, velocity and random.


Improved Freehand selection tool and new polygonal selection tool (long time user feature request)


Improved Text Tool, text tool now can wraps text automatically within the bounding box.


Read ICC color profile from imported PSD files.
for more detailed information then go to GIMP 2.6.0 release notes.
GIMP 2.6.0 is a big move for transforming GIMP image manipulation code from old 8bit processing to use new GEGL 32bit processing for better result and non-destructible image processing (image quality not reduced by image manipulation process) but this move is really need so many work to convert all functions that already exist at GIMP to the new GEGL then this need more time to code, test and debug the functions to match the existing functions. GIMP dev. team make a really smart move with disable by default GEGL operation and still used old 8bit operation code by default, this decision will make GIMP still can deliver useful product, working on the change of GIMP UI and also easier for user to taste the new GEGL and report any GEGL bugs to developer.
No more than 10 days after GIMP 2.6.0 released, then new fix release GIMP 2.6.1 is also released.
It's look like GIMP developer team got many bugs report from the many user that using the new GIMP 2.6.0 then dev. team is working hard to eliminate major bugs and released a fix release with GIMP 2.6.1 and for more detailed what bugs that eliminated, check GIMP 2.6.1 release notes.
Thanks a lot GIMP dev. team! GREAT jobs and also FAST too... (^__^)=b